Home
Knitting Patterns
FREE Knitting Patterns
Ready-Made Items
Flickr Group
FREE Knitting Pattern!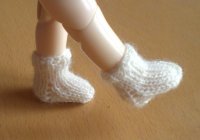 Socks for Pukifee or Lati Yellow

I used 2mm double-pointed needles and lace-weight/2-ply yarn. Worked top-down in the round.

Cast on 14 and join to work in the round.
Work 3 rounds k1, p1 rib.
Knit 5 rounds.

Heel:
Put 7 sts onto one needle and the other 7 sts onto a safety pin for safe-keeping.
Working just the sts left on the needle:
1: sl1, k6
2: sl1, p6
Repeat rows 1 & 2 twice more.
7: sl1, k3, ssk, turn
8: p2, p2tog, turn
9: k2, ssk, turn
10: p2, p2tog

K3, pick up and knit 5 sts down side of heel flap, place marker. Knit sts from safety pin. Place marker. Pick up and knit 5 sts down other side of heel flap.
Next round: k to 2st from 1st marker, k2tog, knit to 2nd marker, ssk
Repeat this round twice more.

Knit 5 rounds.
Next round: k2tog round. Break yarn and draw through sts on needle, pull tight and weave in end.

Any comments or questions, just let me know at anna@beepbeepdesigns.co.uk! And when you've made them, why not add a photo to the Flickr group.