Home
Knitting Patterns
FREE Knitting Patterns
Ready-Made Items
Flickr Group

Welcome to beepbeep miniatures!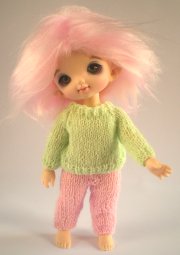 On this site you'll find knitting patterns for BJD such as Fairyland Pukifee, Lati Yellow and similar-sized dolls. Most of the patterns are organised conveniently into ebooks which can be purchased through the site, so you can start knitting straight away!

To make it all as straight-forward as possible, all the patterns use the same type of yarn (2-ply, also called laceweight) and the same needles (2mm, US 0). Knitting at this scale is easier than it looks and any intermediate knitter can tackle these patterns and make something truly unique for their doll.

Ready-made hand-knitted items for Pukifee and Lati Yellow are also available in my Etsy shop. There is always a selection of cardigans and sweaters, and usually some other one-off items too. If there is something specific you are looking for, please feel free to contact me on anna@beepbeepdesigns.co.uk. I am always happy to make custom items for other dolls and in other styles.